DAM (Digital Asset Management)
At the heart of the Pimalion platform, DAM (Digital Asset Management) is one of the three main pillar modules linked to the other two: PIM and ETL, it is connected to all the publications that use its file resources, but it can operate independently in its own capacity.
Multichannel Publishing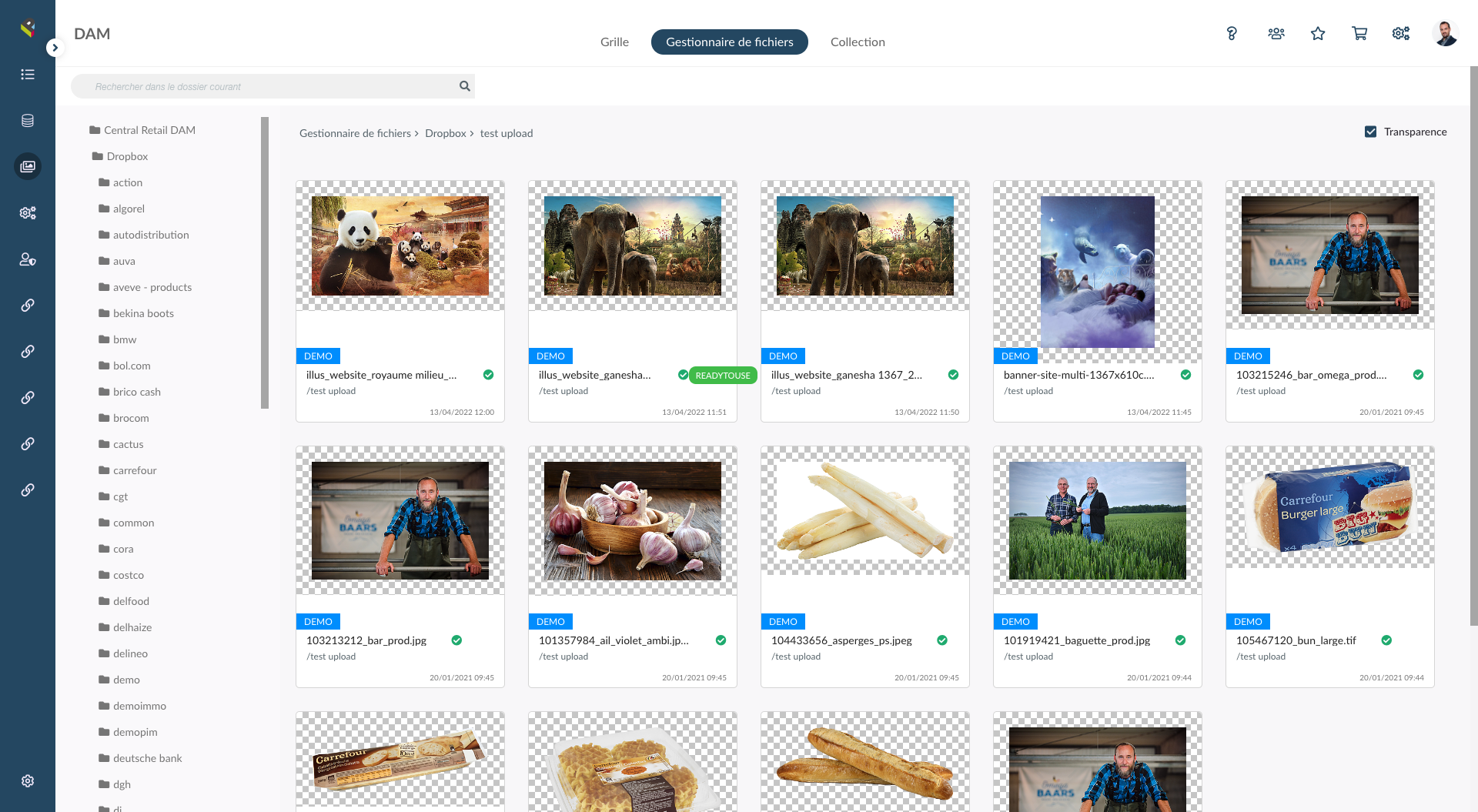 Integrated natively into the Pimalion platform interface, the multi-criteria file searches is made much easier by the fact that it also includes a search on fields related to the PIM and the various publications managed by the platform.
Goals
The DAM of the Pimalion solution has the objectives of:
Managing digital assets in centralized mode:
The main objective of Pimalion DAM is to store all digital assets linked to marketing and product information management of a company, including images, videos, audio files, documents and other types of files. This allows companies to effectively manage their digital content from a single location.
Optimizing the workflow:
Another Pimalion DAM key goal is to optimize the workflow by eliminating manual processes and automating repetitive tasks. The solution also allows effective collaboration between the different departments and users, which accelerates the global process. Any file imported into the DAM will be transformed by the IPS service into as many different file formats as required.

Improving productivity: Pimalion's DAM module, integrated with the PIM module and linked to publications (a remarkable feature of the solution compared to other products on the market), aims to improve productivity by reducing the time needed to find specific digital assets and their various presences listed in all publications generated from Pimalion. The process is facilitated by features such as advanced search, automatic classification, collection management, AI integration and automated keyword assignment. Pimalion's DAM also offers a number of original and much-appreciated tools that eliminate the need for image manipulation, such as : an intelligent image classifier, image recovery for products without images, resolution optimiser, background suppression, deduplication, PDF data extractor.
IIn short, Pimalion wants to help companies better manage their digital assets by offering a centralized and efficient solution for storing, organizing, securing and distributing their digital assets.
Pimalion DAM module
The strength of the DAM (Digital Asset Management) of the Pimalion solution lies in its ability to provide a centralized and easy to use platform to store, organize, search and distribute digital assets of all types such as images, videos, audio files and Documents.
Pimalion offers a robust DAM solution that allows users to effectively manage their digital assets while providing an intuitive user experience.The solution is designed to be highly scalable and customizable, which allows companies of all sizes to adapt it to their specific needs. It also makes it easy to connect to servers and other database or DAM solutions in the ecosystem already in place.
Pimalion's DAM also offers advanced features such as automatic object recognition, face recognition, text or logo detection and AI-based image analysis. These features allow users to quickly find the assets they need using advanced search criteria. Keywords are also created automatically without any manual intervention.
Users can also take advantage of the IPS (Image Import Service) micro-service, which automatically transforms image files into any type of format they require, providing a reliable, automated feed to the various channels in the appropriate formats (e.g. 72 dpi for the web and 300 dpi for print). This integrated management function allows you to create as many different formats as you like, freeing users from the need to handle and process files. Significant savings in time and effort.
In summary, the DAM force of the Pimalion solution lies in its ability to provide a centralized, easy-to-use and highly scalable platform to store, organize, search and distribute digital assets while offering advanced features such as automatic recognition of faces and text detection.