PIM (Product Information Management)
At the heart of the PIMALION platform, PIM (Product Information Management) is one of the three main pillar-modules linked to the other two: DAM and ETL. The PIM systematically feeds all the publications and channels that need to use its information.
Multichannel Publishing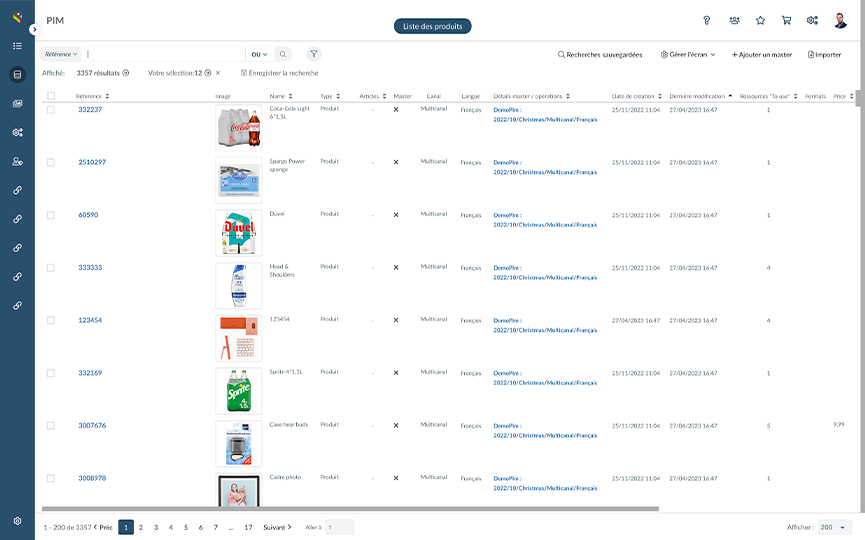 Goals
The objectives of PIM is to organize, centralize and manage all the contextual information related to a product reference. All these references constitute a reference database. Each reference presents different fields, without limits, of information depending on the data model(product sheet) dependent on the category or family of products present in the nomenclature(or taxonomy). These fields can be of all types (calculated, text, checkbox, textAera, entry, date, alphanumeric, numeric, upper case, lower case, and many more...).
The Pimalion solution PIM has the objectives of:
Centralize the data produced:
Pimalion's PIM is a database that brings together all the information related to a product/item in one place, making it easier to manage and update. Information can include descriptions, images, videos, prices, stocks, prices, calculated fields, technical, marketing and logistical specifications, etc.
Improving data quality:
Pimalion's PIM also improves the quality of product data by eliminating duplication, standardizing data and enriching it with additional information. This module ensures the consistency and accuracy of information across all sales channels and creates different contextual content depending on the channel (web, digital, print, etc.). The data is modified once to be adapted across all active channels.
Optimizing data dissemination:
Finally, Pimalion PIM optimizes the dissemination of data produced on all sales channels (website, marketplaces, social networks, etc.). The information is automatically adapted to the specifics of each channel to ensure a coherent and optimal user experience. Connectors control updates on the various channels in real time, eliminating many tedious tasks and risks of error.
Pimalion PIM-module
The force of the Pimalion PIM lies in its ability to rationalize and automate product data management processes, which allows companies to improve their operational efficiency, accelerate marketing time and optimize the 'client experience.
Pimalion PIM offers a full range of features, including product information management, media management, attributes and variants management, classifications and hierarchy management, workflows management, translations management and multichannel publication. It also allows companies to comply with the standards and regulations in terms of product information such as GS1, Fab-Dis and others.
The Pimalion PIM module is highly configurable and customizable to meet the specific needs of each company. It can also be integrated with other systems such as ERPs, CMS and e-commerce platforms to ensure transparent synchronization of the product data.
In summary, the Pimalion PIM strength lies in its ability to provide a complete solution for the effective management of product information, rationalizing operational processes and improving the customer experience.