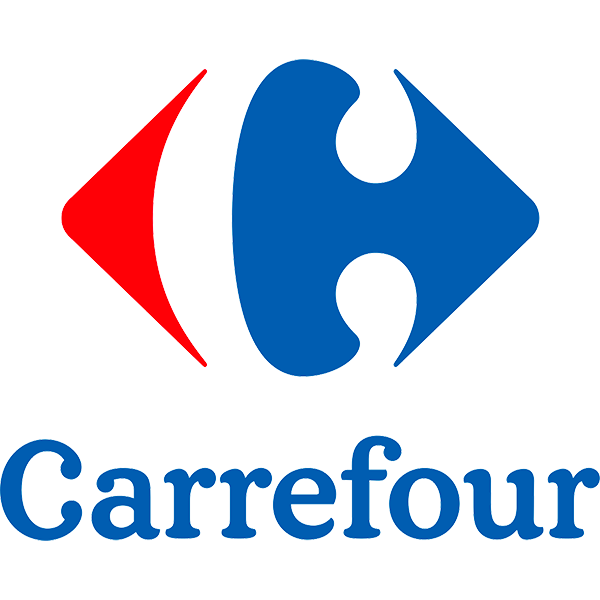 Carrefour is one of Belgium's leading food and non-food retailers. Its network of sales outlets is made up of three banners: Hypermarché Carrefour (40 shops), Carrefour Market (440 shops) and Carrefour Express (300 shops). The multi-channel communication strategy is resolutely geared towards accelerating the digitization of media and the procedures required to implement them. The aim is to optimise both results and costs.

To find out more about Carrefour : https://www.carrefour.be/nl.html
The challenge
Every week, shops put out an average of 1,000 product promotions in their various folders. These offers are presented in a number of digital and printed media, and particularly in-store displays. Each offer has to be presented in some 7 to 8 different formats, 3 to 4 language versions (including bilingual versions) with more than fifty different promotional mechanisms to take into account. This represents an average of +/- 30,000 different posters to create and as many PDFs and JPEGs to generate!
The need
Carrefour wants to automate its processes as much as possible and manage its multi-channel communication as efficiently as possible in order to save time and keep its advertising budgets for this type of investment to a minimum. It is also important to allow shops maximum flexibility and to ensure that they have their promotional material on time and on target. Given the amount of sensitive information to be checked, and the possibility of last-minute changes, the system put in place must meet all these constraints and requirements. Another important issue to take into account is the company's desire to respect its commitments in terms of sustainable development and to limit the use of paper as much as possible.
Solutions thanks to Pimalion
The platform manages Carrefour's entire promotional process, from product selection, the fully integrated production of folders and catalogues in different language versions, right through to approval for printing, with all the numerous execution and proofreading phases required. The solution ensures that the marketing and purchasing teams, their agency partners and the dedicated teams (some 150 people) have total control over the process, while enabling everyone to work in comfort and with a high degree of peace of mind. Once the 'folder' channel has been validated and the documents sent to print, the system will automatically create another 'POS' channel to automatically generate the 30,000 or so documents required, in compliance with the guidelines imposed by Carrefour's graphic charter. The operation takes just 20 minutes to generate all the necessary file formats! An interface is then provided for marketing staff to validate and correct any errors directly. At the same time, other channels will be created (web, digital and print) to build and supply all Carrefour's other multi-channel communication media.
Very concretely
Platform active since 2017
A highly intuitive shop interface for managing promotions, active since 2023 (+/- 500 shops connected)
450 potential users
More than 500,000 items managed by the PIM, making up more than 150,000 products
More than 300,000 assets (mainly images) are present in the DAM, which creates 7 different image formats to meet the needs of various publications
Every year, the platform manages an average of 450 folder-type communication operations, multiplied by the variable number of language versions.
100% system management of corrections and annotations
An automatic feed for the web (e-shop promotions), digital (mobile apps, digital signage) and various print media
Launch in 2023 of the E-folder generated entirely from Pimalion
In-store display material made available in record time via a dedicated interface, enabling the necessary printing to be carried out. Each year, more than 2 million different posters are generated fully automatically by the system and made available to the Carrefour network.
Validation workflows to minimise errors and free key marketing staff from wasting unnecessary time
IT and Digital departments are making increasing use of Pimalion's API to retrieve information or use functionalities
The Pimalion graphics rendering engine
Thanks to its graphic rendering engine, Pimalion enables Carrefour to produce its display material extremely quickly, whatever the level of complexity of the offers to be processed (length of texts, promotional mechanics, logos, pictograms, various mentions, one or more images, combinations of visuals, etc.). After a short training session, users can independently edit any poster model and modify the results obtained automatically by making manual graphic adjustments using the "entity display" tool. Based on HTML and CSS technology, the engine can produce unlimited volumes of spotters (Carrefour's own name for a product poster) and build different templates very quickly, with no limits.
Result
Substantial savings in time and money. Assured and largely fully industrialised production. Today, the platform fully meets Carrefour's expectations in terms of its multi-channel communications, and in particular the automatic production of its in-store displays. All those involved are delighted to be able to benefit from the power of the tool and its ability to take into account the constraints associated with homeworking and Carrefour's ambitions to digitalise.
Pimalion is an essential platform for the multi-channel management of Carrefour promotions, both online and offline. It fully meets our ambitions to optimise the digitization of promotional campaigns and global communication.