MDM (Master Data Management)
The MDM (Master Data Management) module is essential to companies that are in the constant construction and update of their products catalog. It provides mass processing of data and automates a large number of tasks in order to build the structure and content of its repository much more quickly.
Data Sourcing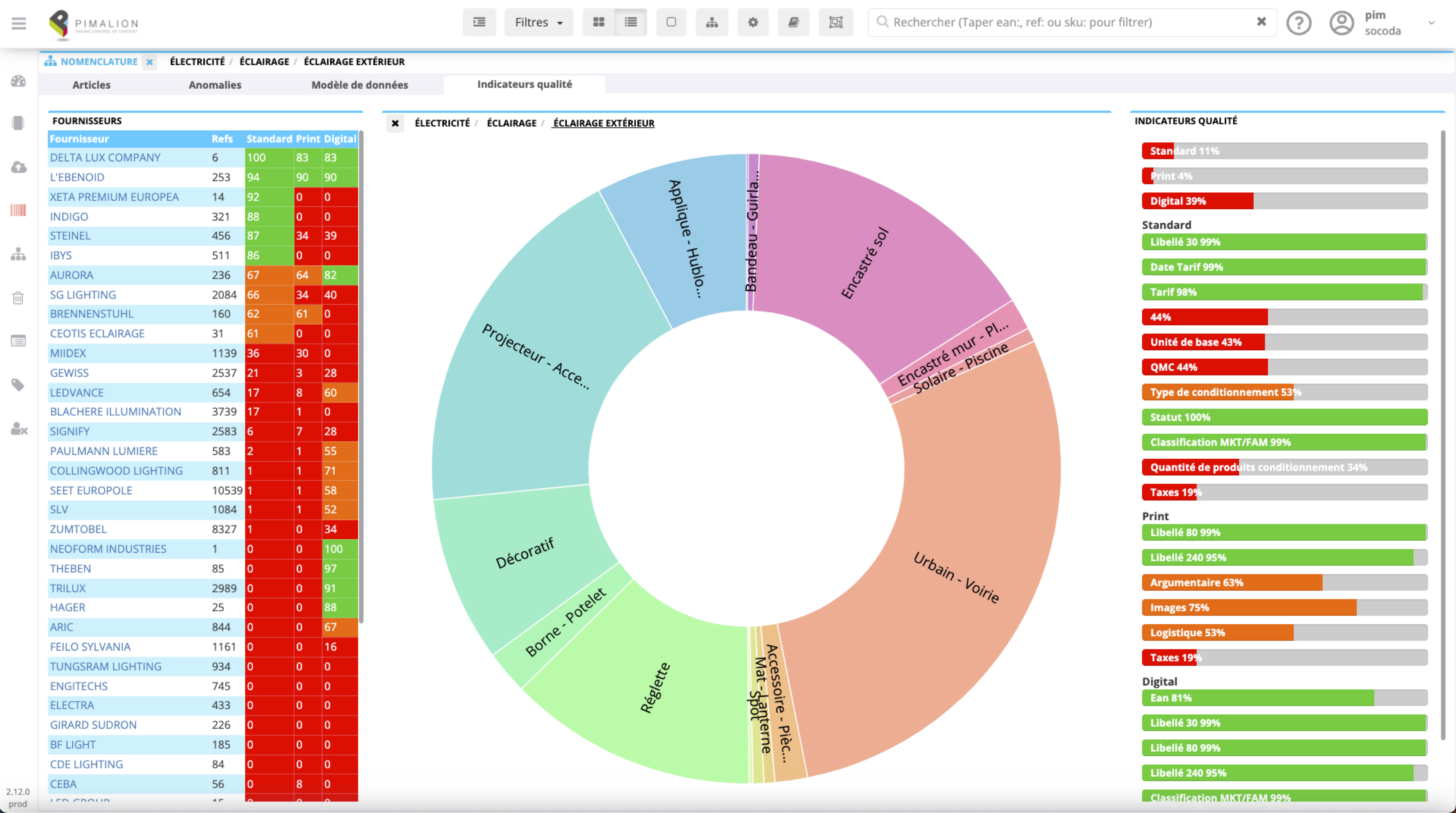 Goals
MDM or Master Data Management is a method that allows you to manage business data in a centralized and coherent manner. The Pimalion solution aims to provide a complete MDM platform to help companies effectively manage their data and provide them with effective tools to optimise their product repository in terms of information completeness, homogeneity, consistency (keys/value), product grouping, updating and image or asset quality.
Simplified management of heterogeneous data for optimum product presentation across communication channels.
Publishing heterogeneous data on the web and on paper represents a complex challenge, particularly when it comes to creating faceted filters, comparison tables or product variants. This complexity is generally due to the diversity of formats and the inconsistency of the information available. Our tools integrated into the MDM module provide an effective solution to this major problem. It simplifies the process by standardizing and optimizing data. This makes it easier to create filters, tables and variants. In addition, the tool facilitates mass modifications and the detection and correction of anomalies, guaranteeing better management and optimal presentation of data on the web, as well as in other modes of communication.
The main objectives of the MDM of the Pimalion solution are as follows:
Centralization of data:
One of the main objectives of the MDM is to centralize all the data of the company in one place.This avoids duplicates and inconsistencies in data, which can have a negative impact on commercial decisions. The Pimalion solution offers a central platform to store all the data of the company, which facilitates product data management and analysis.

Improving data quality:
Another key feature of MDM is improving data quality using a combination of AI, Data Mining and Machine Learning techniques
Standardization and creation of data models
Our data model generation module (Generative AI) is based on an in-depth analysis of the models of the major e-commerce players in order to create relevant attributes and facets by product category. The models generated are then checked by business experts to guarantee their quality, while the attributes are selected using Deep Learning algorithms for maximum accuracy.
Next, the Pimalion solution uses data cleaning and normalization tools to ensure that all data is accurate and consistent. This enables businesses to make more informed and accurate decisions.

Efficient management of product data and content:
Finally, the MDM module aims to help companies manage their data effectively and consistently. The Pimalion solution offers the widest panel of tools to monitor, improve and manage data in real time, enabling businesses to react quickly to changes in data.
In summary, the Pimalion solution is designed to help companies, and their responsible (CDO, Chief Data Officer) for data, in particular for the management of PIM and DAM, to effectively manage (create, complete, modify, delete) their data and their contents; and aims to support them for good data governance, by providing a complete MDM platform to centralize data, improve their quality, structure them and manage them more efficiently according to the needs and rights of users of the platform and data recipients.
The Pimalion MDM module
Some of the strengths of the Pimalion MDM solution :
Easy integration with existing systems:
The Pimalion solution is designed to integrate easily with a company's existing information systems, such as ERP, CRM, PIM and DAM as well as business applications. It uses predefined connectors (if possible via its API) to access data from these systems and consolidate it in a centralized repository.
Advanced data management:
The Pimalion solution offers advanced features for data management, such as duplicate detection, data normalisation and hierarchy management. It can also be used to create data quality and completeness rules to guarantee the integrity and accuracy of information.
Customization and scalability:
The Pimalion solution is highly customizable and scalable to meet the specific needs of each company and its product repository. It offers a user-friendly interface for configuring business rules, workflows, taxonomies, data models and custom views.
In conclusion, the MDM module of the Pimalion solution offers
Easy import of product information data from all data sources and formats (multi-modal enrichment)

A complete solution for classifying, structuring, normalizing and optimizing the quality of product data, for a result that is ready to be published in multi-channel mode